Oct
5
Sat
Musical Comedy at Improvaganza!

@ Kumu Kahua Theatre
Oct 5 @ 7:30 pm – 9:00 pm
Thoroughly Modern Biggie (ImprovHI's musical comedy troupe) will be doing some make 'em ups at this year's Improvaganza! Join them on Saturday, October 5th as they make up a musical montage based off an interview with a stranger from the audience.
The festival will also feature many other AMAZING improv comedy acts from Honolulu, Los Angeles and even Alaska!!
For more info on the festival, visit improganza.com
Dec
4
Wed
Improvhi Comedy 201B Intensive (Must have completed 201A)

@ Happiness U at SALT in Kakaako
Dec 4 @ 6:00 pm – 9:00 pm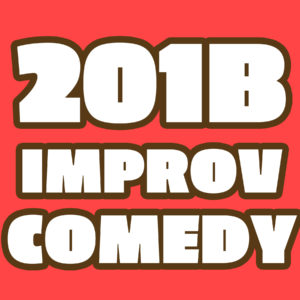 This class will take the tools learned in our 101 Basics classes and apply them to comedic long form improv scenes. Students will dive deep into finding the "funny" of their scenes, building relationships, identifying patterns, heightening within the scene and group games. Students will also be introduced to several different long form openings to help generate ideas for their scenes.
At the end of the 201C session, students will have the opportunity to perform a showcase for invited guests.
All classes are 3 hours long. Students will learn the value of "yes, and"-ing, listening, agreement, support, and more in a safe, nonjudgmental environment.
Because intensive sessions only 2 weeks long, there are no make up classes available. Students must participate in both weeks to move onto the next level.
Prerequisite:
Must have completed 201A within 1 year
Class Dates:
Wednesdays – 12/04 and 12/11
Class Times:
6pm – 9pm
Class Location:
All classes will be held at Happiness U at SALT in Kakaako
675 Auahi St, Suite E3-205 Honolulu, HI 96813 – Second floor down the hall from Hungry Ear
Class Cost:
$75 (6 hours of instruction total)
Parking:
Metered, street or paid structure
Instructor:
Yosh S.
*instructors subject to change without notice
See all improvhi class descriptions here.
All students should review the improvhi house rules before starting their classes.
Jan
18
Sat
Katrina Law: The Musical!

@ Entrepreneur's Sandbox
Jan 18 @ 7:30 pm – 9:00 pm
Improv Hawaii Presents…
"KATRINA LAW: THE MUSICAL!"
An improvised musical based on a live interview with actor Katrina Law (Hawaii Five-O, Arrow). Everything from the music to the dance moves to the song lyrics are completely made up before your eyes and ours, creating a completely unique comedy experience!
Show Starts:
7:30pm (doors open at 7:00pm)
Location:
Entrepreneur's Sandbox – 643 ILALO Street
(at the corner of Ilalo and Keawe just one block Makai of Ala Moana Blvd)
General Admission:
$10
Parking:
Street parking or paid parking lot (sorry, we do not validate)
This show may contain adult language and situations. It is recommended for audience members 18 & over.